China Wuhan will test all 11 million residents for Covid 19. Seven new infections have been detected in China breaking the city the chinese cities year-long street without local infections now joins a growing list of  cities battling to contain the spread of the delta variant Covid 19 has returned to ground zero of the pandemic makeshift tents and medical staff are back on the streets of wuhan as mass testing is ordered for all the cities.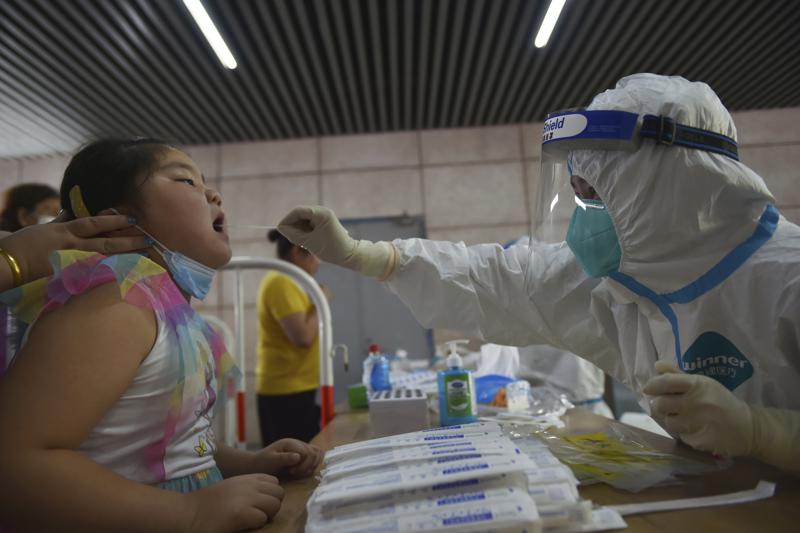 The result supermarket shelves wiped clean as residents prepare for a potential lockdown the outbreak in Nanjing has now spread to over 20 cities across more than a dozen provinces 300 cases have been detected in just 10 days forming China's biggest outbreak in months containment efforts have been ramped up all across the country residents in Yangzhou are the latest to join millions of people in lockdown transport links have been cutoff and mass testing rolled out in major cities contract tracing efforts are also in overdrive for more than a year china successfully beat back the coronavirus with this formula.
The fast spreading Delta Variant is now challenging its zero tolerance approach it's also a test for beijing's homegrown vaccines to find out whether they can hold up to their mutation more than 1.6 billion doses have already been administered nationwide.
We remember what the city had gone through last year at the peak of the pandemic remember that back then had accounted for the bulk of. The Covid 19 cases and deaths in China at the time and so residents with the announcement of the mass testing say they are calm but they are taking this very seriously and they are doing what they can to follow the instructions of the authorities.
Now the number of cases that we are seeing today are a fraction of what we had seen at the peak of the outbreak last year in Wuhan residents say they feel calm because authorities seem to have moved more swiftly this time even though it was just seven locally transmitted cases being announced. it is mass testing its 11 million population moving forward and they say that there are people more people now also wearing masks on the streets this given that life had largely returned to normal.
China as the virus had been brought under control there are also those who say that they have taken it upon themselves to cancel any trips or travel they had been planning out of Wuhan city.
People who are living in the area where Covid 19 cases had been found the district zone has been currently sealed off and no cars.